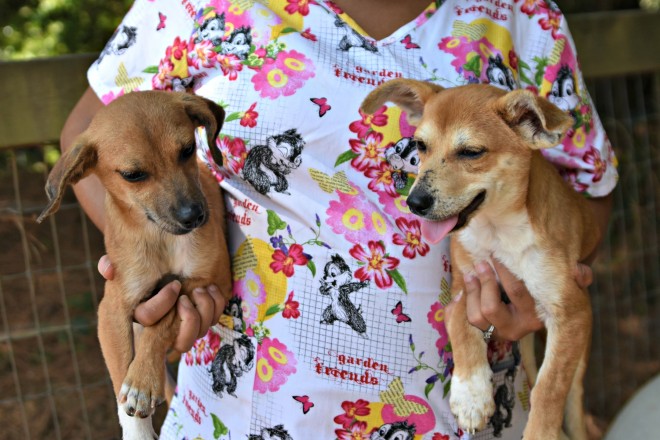 Chip and Dale are two of the sweetest little guys you will ever meet.  They came to us when they were about 7 weeks old with terrible cases of Demodex.  Their little bodies were covered with crusty scabs!  Demodex, for those of you that do not know, is what is commonly referred to as the non-contagious mange in dogs.  We all have different species of Demodex mites on our bodies – yes, you have them on you right now!  While they usually don't cause problems, when dogs and young puppies are stressed the mites can become active and cause skin issues.  This condition is remedied by special dips and sometimes oral medication.   You can see in Chip's photo below there are still have some sparse places of hair on their ears but this will eventually all grow out.
Chip and Dale were born approximately 5/11/2017 and currently weigh around 9 pounds each.  We expect that full grown they will be around 20 pounds.  These two little guys love to play and wrestle and they are very loving as well.  While we have listed them together they can be adopted separately which we would recommend.  
Check out Dale's Elvis impersonation below!  
They are both happy puppies who will make great companions.   Here is Dale's non-Elvis face!
Chip giving kisses!
Both Chip and Dale are up to date on vaccinations and are heartworm negative.  They will both be neutered and microchipped prior to adoption.  Their adoption fee is $150 each. If you are interested in Chip or Dale please fill out an application at https://tysorvet.net/adoption-application/.