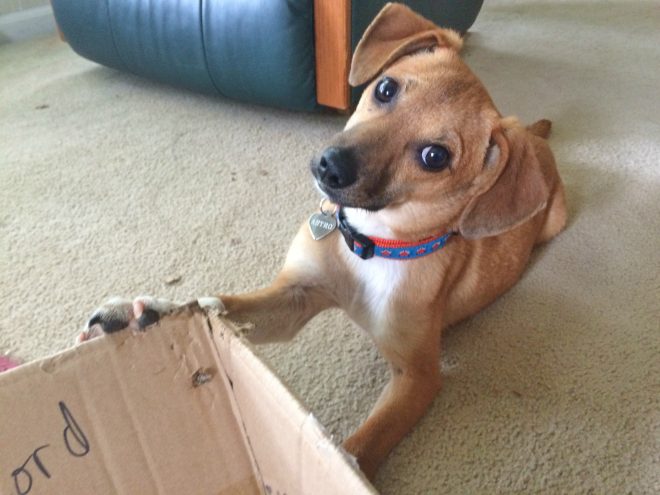 You are not going to see a puppy much cuter or sweeter than this one!  Astro is a great dog.   Well technically he's still a puppy according to the dog food charts, but he is one mighty puppy!
Here is what Astro has to say:  I am totally snuggley and adorable, if I do say so myself.   But I quickly calm down when asked which I guess can be a really good thing for some people.  Everyone says I'm as smart as they come and I get along with dogs and cats too.  By the way, I have met a cat that I think is really nice but I don't think the kitty likes me all that much.  Oh well, I just can't worry about that!  I would love to have a home where I'm not alone too much of the time cause I'm still a puppy and don't want to have to be alone most of the day.  Plus, I do need to go outside and do my business from time to time since I'm still little.  I know that will get better when I am a little older and I won't have to go out as often.  One of my stupendous qualities is that I sleep all through the night and I'm also not a barker.  I'm also on the small side so I really don't take up too much room!  And guess what – I'm great in the car!  Come see for yourself and you'll know this is all true and even better, Life is great but would be a lot better if I had a forever home to share it with. Let's meet and see if we're that perfect match? No time to lose – I'll be waiting!!
Astro was born in May of 2017 and weighs about 10 pounds.  We do not expect that he will be more than 15-20 pounds when he is full grown.  If you are interested in Astro please fill out an adoption application at the link under our adoption tab on our website.  Astro is up to date on his vaccines, has been neutered, is microchipped, and on flea/tick preventative and heartworm preventative.  If you want to visit with Astro just send us an email or give us a call.  He is in a foster home but his mom is very flexible and we will be glad to arrange a meeting.