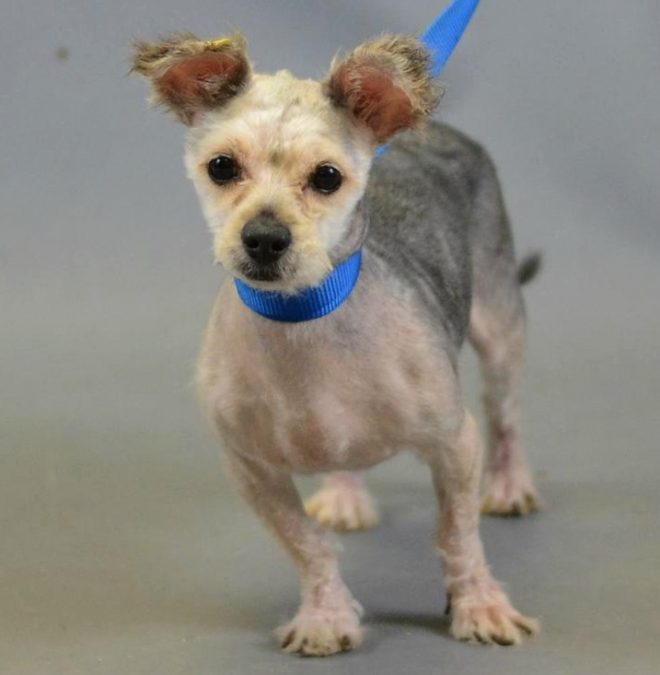 Hi everyone, my name is Juniper. My adoption facility mom says that I probably had another name before but she doesn't know what it was. She is telling everyone that she named me after Juniper trees because they are hardy and a little prickly. I'm letting her post a photo of what I looked like just a few days ago. I certainly didn't look my best did I? The nice ladies at the shelter where I ended up sedated me so they could shave me. I'm so glad they did because I don't think I would have liked it very much. They told my temporary mom that my right front leg was attached to my chest by mats, my tail was attached to my back right leg, and my right ear was so matted to my head they couldn't even see it. They nicked my ear just a little bit when they getting rid of all that terrible hair but I know it was just an accident since they couldn't even find my ear! Oh and all my toe nails were curled under. I heard several humans say that they didn't even know how I managed to walk. Well let me tell you – it wasn't fun.
I told you it was bad! I'm feeling a lot better now and will be ready for a home soon. Now that all those horrible mats are gone my temporary mom says that she thinks that I am a Yorkie or Yorkie mix and she is guessing that I was born around the year 2013 so I am around 6 years old and I only weigh 9 pounds. I still have to get all my vaccines, be tested for heartworms, and get neutered. I'm not sure I'm going to like that last part but if it means that I can then go from street life to sweet life I guess it will be worth it. My temporary mom says that I have to let you know that sometimes I don't like to be picked up and I have some resource guarding issues as well. I really like a small ball and I will bring it to you but I don't like giving it back to you so much. I'm going to be working on those issues while I am waiting for my forever home but I will need a family who understands what I have been through and who is an experienced dog owner.
If you think you might like to take me home please visit the website, www.tysorvet.net and click on the adoption tab. There you will find the adoption form to fill out.