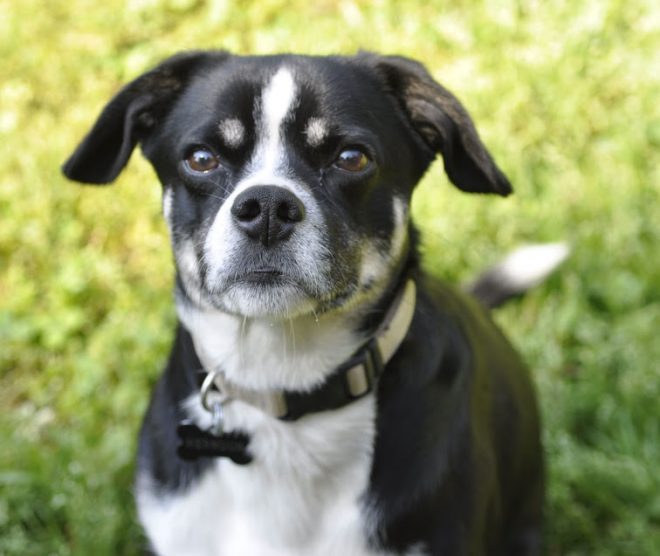 Oreo is a delightful Puggle (Pug Beagle Mix).  He's around two years old and approximately 28-30 pounds.  Oreo has a beautiful, shiny low-maintenance coat, loves to run and play, enjoys walking on a leash and is an all-around great dog. His car rides have been drama-free.  Oreo is quite intelligent and has been easy to teach house manners.  He's house trained, sleeps in his crate, and he actually likes to go into his crate when he needs a break or a nap.  He does well with the kitty that is in his foster home, and he plays well with the other dogs.  He would do fine as an only dog too because his main purpose in life is to spend time with the humans in the house.Oreo needs a home with a fenced yard, or he needs to be leash-walked only.  Being the attentive dog that he is, Oreo would appreciate a home where the humans are home some during the day.  He's a wonderful companion and would love a home where he has the opportunity to spend as much time as possible with his people.Oreo has been neutered, is up-to-date on vaccines, is heartworm negative and has been microchipped.
For additional photos go to     https://photos.app.goo.gl/YauErGGNJZ0G5KqX2
For a short video clip, go to these two links.