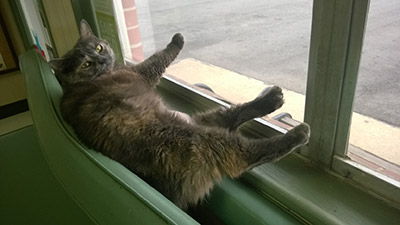 Tortie
Hey, I'm Tortie. I am a dilute tortoiseshell, born 7/3/2012. I am what they call a "fluffy" girl, but it just means that I have more love to give. I have a great personality and I am normally pretty calm and docile.
You might see me sunning in the window, lounging on the sofa, or waddling down the hallway. I love to be right the middle of the action- especially on the windowsill watching the birds, squirrels, or whatever happens to wander by me.
I don't mind other cats, and dogs are alright as long as they know who the boss is. That would be me because I am an independent gal and pretty much rule the roost around Tysor Veterinary Clinic. So if you are needing a cat to lay around with you, come see me at Tysor Vet Clinic. I'll be waiting on the sofa.  I'm healthy, spayed, vaccinated and microchipped.