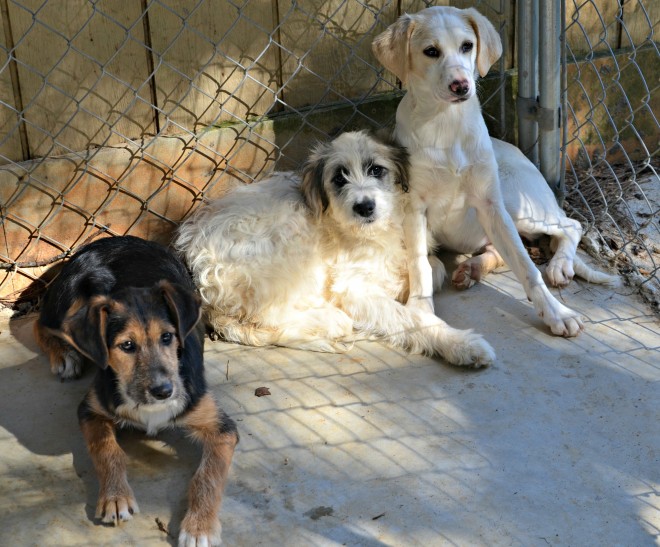 We couldn't be happier for Griffin – we just got this email from his new mom!
Griffin is a dream puppy…. he just jumped right in loving his bed, crate, toys, water/food bowl stand. No problems with going potty outside — just like clockwork. He rode very well in the car and did great going into the pet store and greeting new people and then walking around my neighborhood seeing new people and hearing lots of other animals. He seemed a little spooked at night with all the crickets/toad going, but he slowly walked in the yard with me and seemed to loosen up a bit. He whined just a little when we went to bed and his crate was closed for the night… but in less than a minute he stopped and we slept peacefully for 6 hours… I read that as a pup they shouldn't be in the crate more that their age in months plus 1, so we go for 6 hours at night now. He loves to just nap in his bed at my feet while I am working on the computer..  in fact that is what he is doing now.
What a joy!
Thanks,
Beth
 Griffin, our black and tan wire-haired boy, and Millie, our cream colored flat coat girl, are still looking for their forever homes.  Their sister Sophie has been adopted.  These pups came to us via the Cleveland County Animal Shelter.  While they were very shy when they first came in they are now full of puppy cuteness, love to play, give puppy kisses, and just generally look adorable.  Griffin and Millie are now about 5 months old and they both weigh right at 20 pounds.  We believe they will be around 30-35 pounds when they are full grown.  They would both love an active family and hopefully a fenced in yard since they love to run and play.  Walks, hikes, days at the beach, or mountain trails are things that they would love.  And even though they are both full of puppy energy they both settle down nicely and we can easily see a comfy couch for them in the future as well.  Griffin and Millie do not have to be adopted together.