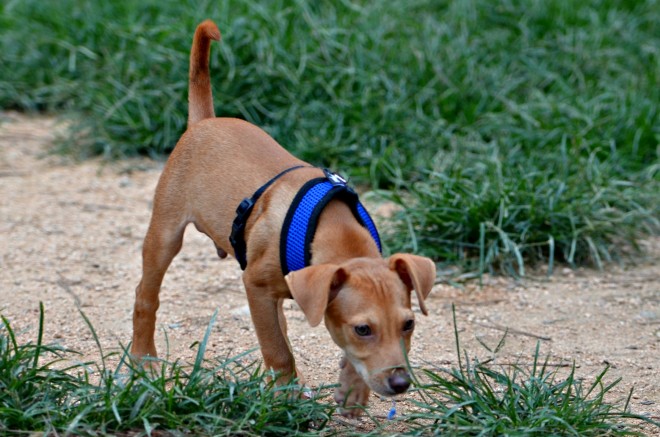 Riley is approximately 17 weeks old and ready for his forever home.  He is a typical puppy in that he is super sweet and has lots of energy but he does have one unique feature.  He has a lightening bolt on his side!  Here is an upclose photo in case you really didn't believe me!!
We have no idea how this came about since he had it when he came to us.  Now you probably think that Riley looks kind of like a miniature hound dog, right?  
I bet you will be surprised to know that his momma was a long hair daschund.  That's right.  We saw a photo of her before she was rescued from the Chatham County Animal Shelter.  So even though Riley has long legs we don't think he will get very big.  When we last weighed him about two weeks ago he only weighed 8 pounds.  He loves to play and would love to have a ready made playmate in his new home.  He plays well with small and large dogs.  Here he is playing with Sonny.  It looks like Sonny was giving him a hug.
Riley will be a low maintenance pup in terms of his short coat but he will require lots of exercise and play time, especially while he is a growing puppy.  He would prefer a home where someone is home most of the day who can give him the exercise he needs or where he has another dog to play with.  He will be a much happier pup with one or both.
If you are interested in adopting Riley please click on the adoption tab on our website, www.tysorvet.net.  There you will find a link to our adoption application.