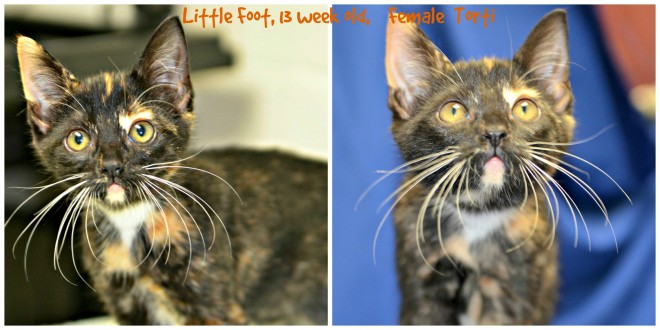 Is this not the absolute cutest kitten you have ever seen?  Meet Little Foot.  She came to us as a stray teeny tiny kitten that had been in some sort of accident (we are unsure of cause).  Due to that accident she lost her tail and some of her toes on a back foot.  Don't let that worry you though because she could care less.  This kitten is full of life and loves to play and run.  She doesn't realize that she is "different" and hopes her new home doesn't think she is either.
Little Foot is about 13 weeks old with an estimated birthday of late June 2016.  She is current on her vaccines that are age appropriate, been tested for Feline Leukemia and FIV (both negative), and will be spayed prior to adoption.
Little Foot gets along with everything and is incredibly confident.  She should add some laughter to a house hold.
If you are interested in adopting, Little Foot, please fill out our adoption application.