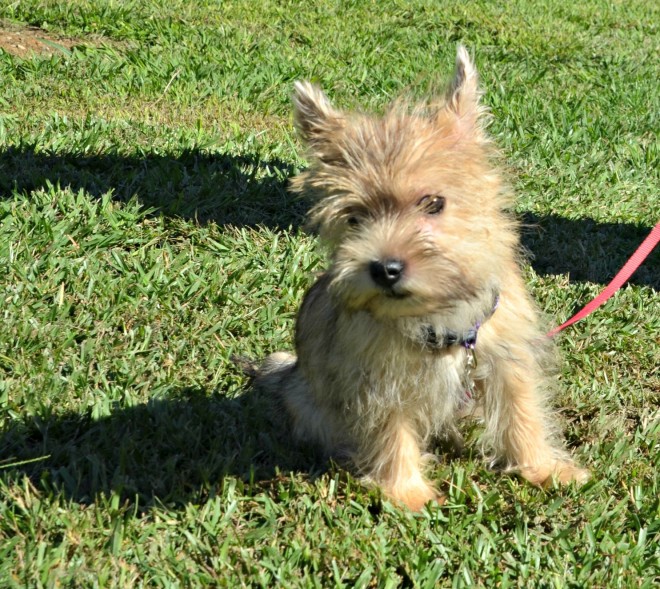 Nadia is one of the cutest, sweetest Cairn Terrier puppies that you will ever meet.  She was born in June of 2016 and currently weighs about 7 pounds.  Nadia was originally sold by a breeder to a family who returned her when she began having some problems that thier veterinarian could not figure out.  You will notice that her eyes look like what we traditionally have called "lazy eye" in children.
This is because Nadia has a condition called Craniomandibular Osteopathy (CMO).  This is an inherited disease that most commonly affects the terrier group.  CMO is the result of bone swelling during the growth of the bones of the skull and jaw.  Young dogs between the ages of three to eight months are usually the ones most commonly afflicted.  It causes significant pain if left untreated.  Dogs who experience this condition grow out of it by about one year of age.  Nadia is currently on a pain/anti-inflammatory medication which controls any pain or inflammation she has.  And as with children with "lazy eye" there are exercises that can be done to help her eyes become more "centered".  However Nadia does not seem to be affected in the least with her eye position.  She does not have any problem walking, eating, playing, etc.  She may have a small limitation when something is directly in front of her nose but she doesn't seem to know that this might be a problem.  She will need to continue on her pain medication for several months.
Nadia loves to go outside.  She is learning to walk on a leash and she absolutely loves to play.
After a walk or play session she is more than happy to snuggle up in your lap.
If you are interested in Nadia please fill out an adoption application which you can find on our website under the adoption tab.  You will need to fill out every box or the application will not send.  Feel free to use n/a for items that are not applicable.  The adoption fee for Nadia is $200.  This will include her spay, vaccinations as of the date that she is adopted, and a microchip.  She will be current on her flea/tick prevention as well as heartworm prevention.