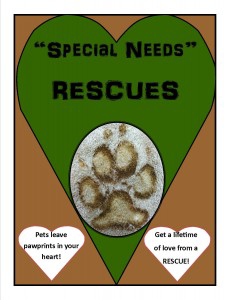 All of our special critters need that somebody special with an extra big heart. Someone with tons of love who can provide the love, attention and time they deserve. If you are that person, please take a moment to read their bios below and pick up the phone, make and appointment to come by and see our beautiful rescues. They have had a rough beginning, but you can give them a wonderful rest of their lives…the forever home they so desperately need and want. They have more love to give than you could possibly imagine. They have changed our lives already just because they are here!
Contact us at (919) 742-3646 today!
---
Bruiser
Watch my video on YouTube at: www.youtube.com/watch?v=Ohp7LW8Vob8
Hello, I'm Brusier.
I'm a six year old Chihuahua mix. I am very lucky to have been rescued because now I have a chance to find my very own forever home. I have a broken jaw, so I can only eat canned food, with just a few kibbles mixed in. I've adjusted to that and it's already healed on its own, so it really doesn't bother me much now.
I am quite handsome, I have a wonderful personality and sweet as can be. I am neutered, weigh about twelve pounds and up-to-date on all my vaccines.
I like to go on walks, but you'll get tickled when I belly flop upside down, because I love to scratch my own back! I like to lounge around and will sit and watch tv with you or take a nap if that's what's on the day's agenda. I'm also cute, cuddly and just a cool little dog. Come see how adorable I am, and you'll want to take me home!
---
Trinity
Hello, I'm Trinity
I am a six year old tortoiseshell. While I only have three legs but I can zoom!
I like to be petted and love on. I like to scoot around the clinic and find me a cool place to stretch out. Since walking around helps keep my legs strong, I don't have to stay in my kennel all day – that part is really cool. I'm of course, litter box trained, so I do know where go when that comes up. 🙂
I'm very friendly and would love to have a family of my own. Come by and see me!!
---